The Bay Lake Society Founder's Club is made up of the first 71 members who answered the call & became Ambassadors and Envoys for the Bay Lake Society cause.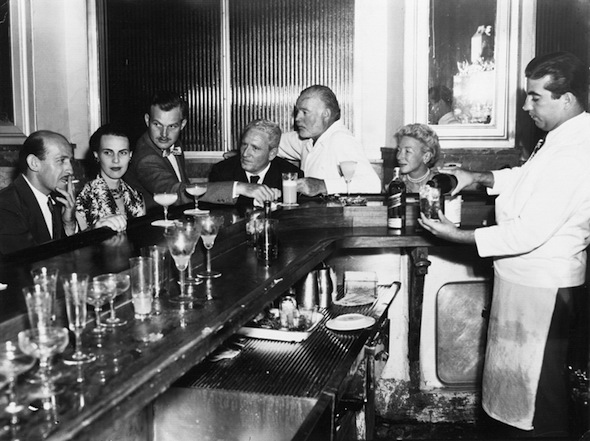 Pictured: Ernest Hemingway and other fellow Founder's Club members on a typical Tuesday night.
Charter Members
The first four seats at the bar are reserved for our original founding members. If you enjoy the Bay Lake Society, be sure to give each of them a follow!
Founder's Club Ambassadors & Envoys
What started as a hashtag has turned into a movement! Our Founder's Club Ambassadors and Envoys have helped to spread the religion of relaxation all across the Twitterverse and beyond. Because of their support and dedication to a life of leisure, we acknowledge them here. Raise a glass -- To The Bay!!!
Note to Ambassador and Envoy members: Sorry, we wrote down all of your titles on some napkins while dining at the BOATHOUSE, and we MAY have lost a few while on our Amphibicar ride. We'll be plugging in the ones we have, and reaching out to everyone else for that information soon.
Slade Bailey

Oliver Bishop

Paul Boudreau

Brian Bulva

Stephanie Chocko

Dave Cobb

Amy Combs

Thomas Cook

Bob Cummings

Kelly Delaney

Amber Eggers

C H Ellerman

Ryan Evans

Mike Forrester

Thomas Gooden

Christopher Grap

Kaitlin Hamilton

Benjamin Hendel

Sarah Holodick

Kendra Hunt

Louis Iovino

Adam Keller

Jayme Keller

Roger Kimball

Scott Ladewig

Chesley Lanford

Brian Larsen

Erin Leach

Jeffrey Lipack

Mike Lostraglio

Nikki Lostraglio

Leslie Martinez

Julia Mascardo

Edward McCann

Bryan Melzard

Erin Murphy

Brian Muse

Brian Noble

Donald Olson

Carolyn Pongracz

Paul Rankin

Kimberly Rochester

Rich Romero

Vicki Runnels

Christa Ryan

Gregory Ryan

Kalani Sanders

David Scherer

Jason Schuck

KJ Simpson

Scott Slater

Chris Smith

Gillian Smith

Justin Smith

Justin Stone

Marc Stumbo

Megan Stump

Andrea Updyke

Meghan Veglia

Derrick Weitlich

Todd West

Mike Westfall

Phillip Woodson

Joe Yost

Jon Yslas